LED Aluminum Profile Manufacturer&Supplier
Kaytai is a professional LED aluminum profile supplier in China, that designs, produces, and sells aluminum profiles all over the world.
Kaytai Aluminum completed the quality management system certification in 2013 and obtained the CE, RoHS, and SAA certificates in 2017. Now we can supply all kinds of high & New technology products from China to the worldwide market. Our aluminum profiles like LED aluminum profiles are widely used in the led lighting industry for making light fixtures for shops, stores, bars, restaurants, and hotels.
Drywall LED Channel
---
Drywall LED channel provides a cleaner finish as this type of LED channel hides all the wires and strips into the wall. However, these may not be simple to install and may even require professional installation with careful planning ahead.
Plastering LED channels into ceilings and walls is more long-lasting, so this is a more permanent lighting setup. These are more common in offices, shops, and other commercial spaces with plasterboard ceilings.
The advantage of a drywall LED channel is that it can be easily removed if you ever want to change your lighting setup. This makes it ideal for temporary installations where you might need to move things around frequently or even remove them altogether.
Architectural Lighting Profile
---
Architectural Lighting Profile (ALP) is a type of lighting profile used to create a clean, uniform finish in a room. This is achieved by hiding all the lights and wires inside the wall or ceiling.
Architectural Lighting Profile provides a cleaner finish as this type of LED channel hides all the wires and strips into the wall.
Architectural Profile Lighting Kits are available in many different sizes and lengths, so you can easily create your own unique design by adding multiple kits together. They're also extremely flexible, so they can be used in areas where space is limited or curved surfaces require special attention.
Ground LED Channel
---
LED channel is an aluminum profile with holes in it, designed to hold LED strip lights. By using LED channel, you can illuminate steps and staircases safely and efficiently.
LED channels come in different sizes and shapes. You can choose between a ribbed or flat top LED channel depending on your needs and preferences.
The ribbed top LED channel has a ribbed top for gripping and traction. The flat top LED channel does not have any ribs on the top side of the channel.
These specially designed aluminum profiles are made to illuminate steps and staircases using low voltage LED strip lights. Not only do these aluminum profiles provide safety while lighting steps and stairs but they also have ribbed tops for gripping and traction. With proper sealing techniques, these channels can be used in outdoor architectural applications.
 Wall-mounted linear light
---
Wall LED aluminum profiles for drywall, structure, can be mounted on the surface of the drywall and used for the linear lighting system for the architectural designs.
Wall LED aluminum profiles are made of high-quality aluminum alloy, which is a kind of popular material with good thermal conductivity and stability. The wall LED aluminum profile is with a good light transmittance and low-temperature coefficient, which can be widely used in indoor lighting applications.
The wall LED aluminum profile has a wide range of light colors and brightness, which can be adjusted according to different needs. In addition, it is easy to install and maintain because it does not need any other accessories besides standard screws or adhesives to install.
 LED Aluminum Profile Channels Manufacturing
---
We are specializing in the production, researching, and marketing of the Aluminium LED profile and LED Linear Lighting fixtures. We offer good quality products and also good service to all of the customers.
Aluminum Profile Channels
Aluminum Profile Channels is a kind of aluminum extrusion profile with various different profiles, such as U channel, T channel, L channel, and so on. It has many different types of shapes with high strength and rigidity characteristics. The aluminum profile channels are mainly used in the construction industry, building decoration industry, and other industries. They are available in different sizes and colors with good quality at a competitive price.
We have been engaged in producing aluminum extrusion profiles for more than 10 years. We can provide you with high-quality products at competitive prices. The aluminum extrusion profiles are widely used in decoration projects such as hotels, offices, schools etcetera. Our products include U channel (U-shaped), T-shaped aluminum extrusion profiles (T-shaped), L-shaped aluminum extrusion profiles (L-shaped) etcetera.
 LED Aluminum Profile Channels Applications
---
We can see the led aluminum profiles in many places. For example, in car decoration, furniture, and advertisement boards. It is a kind of warm and soft light, that is not dazzling to the eyes, therefore, it is popular for the placement with customer presence or the places where customers stop for a period of time.
The LED aluminum profile channels applications are mainly used on highways, city roads, commercial or residential led lighting, etc. The luminaire is the leader of current innovation and technology in the world.
Alumimum LED Profile for Office Lighting
Today we will tell you about LED Aluminum Profile Channel Applications. LED aluminum profile is a lighting component widely used in office lighting. This component is not only designed with advanced techniques and technologies, but also with excellent quality. So, the quality of aluminum led profile meets or exceeds all customers' expectations.
Aluminum LED Profile for Bathroom
LED Aluminum Profile is by far one of the most versatile lights you can apply in your home. Bathroom lighting is essential to have when you need a lot of light. LED aluminum profiles are used in many different places making them quite popular and they come in different specifications. In this post, we will take a look at how to use this LED aluminium profile for the bathroom.
Aluminum LED Profile for Bookshelf
Another lighting product that I want to introduce is Aluminum Led Profile for Bookshelf. It's pretty easy to understand. Just by a few aluminum led profiles, we can beautify the front of bookshelf, desks, and cabinets in a modern house, making them more unique than common shapes such as balls, triangles, or cylinders.
Aluminum LED Profile for Ceiling
They're great for many, many applications. A lot of buildings use it to make high ceilings seem lower than they are. It also saves a lot of space in offices and meeting rooms. In warehouses, installing LED aluminum Profile channels are fantastic for lighting up the space and making it look brighter and cleaner too. There are so many benefits for businesses.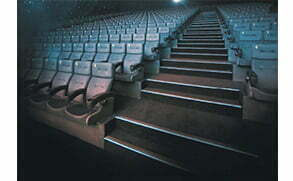 Aluminum LED Profile for Cinema
Building an LED Cinema? Need aluminum LED profile for panels? Want to enhance your decor with Aluminum LED Profile for room decoration? Look no further. Our LED channels and LED profiles lighten up interior spaces in the best possible way and also help you save on electricity bills. These are perfect for office corridors, school corridors, shopping malls, auditoriums, and theatres.
Aluminum LED Profile for Classroom
LED aluminum profile is made of Aluminum 6061 material extrusion, precision processing, and assembly production, which have good performance and a beautiful appearance. One of the most important application areas, we can use LED Aluminum Profile Channel is as a lighting channel in Classroom, Hotel, office buildings, Kindergarten, etc.
Aluminum LED Profile for Cupboard
Aluminum LED profile is a new development, which has been applied to different kinds of industries and fields. The applications of aluminum LED profile in kitchen cabinets can be seen clearly now, the cabinet cover with the aluminum LED profile looks fashionable and elegant. You can design or choose your favorite one for your oil-rubbed bronze, stainless steel, gold rubbed bronze, etc home cabinets.
Aluminum LED Profile for Display
Aluminum Led profile applications in the commercial building: display shelves and lighting shop signs. The aluminum led light strips profile for the display case, backlight shelf, and edge lighting for signboard are widely used in advertisements, shop windows, and indoor decoration.
Aluminum LED Profile for Floor
Aluminum LED Profile for Floor, Can be used for building indoor and outdoor decoration. And the color-changing led strip can be controlled by remote wireless control or by the channel which is convenient to change the color.
Aluminum LED Profile for furniture
LED aluminum profile channels applications LED profile channel is a kind of aluminum profile, it's an ideal product for furniture and industrial area application, the satin-brushed surface makes it the perfect gift for your consideration.
Aluminum LED Profile for Ground
We are the leading manufacturer and Supplier of LED Aluminum Profile in China. The Led aluminum profile is made up of extruded aluminum using high-power led lamps as a source of light. The demand for this product has increased in the last few years among construction / real estate companies and residential buildings.
Aluminum LED Profile for Hanging
Hanging decorative aluminum profiles are a great way to add a little bling to any space, and add some visual interest to a wall or ceiling void. But what is an LED Alu profile section? How do they work? And how can they improve my space? You're in the right place — we'll answer all your questions below!
Aluminum LED Profile for Kitchen
LED Aluminum Profile is often installed in the kitchen to enhance its appearance. Light is emitted from these channels and it makes them elegant and attractive. The LED aluminum profiles are energy-efficient devices that consume less power as compared to regular halogen lighting. Furthermore, these draw very little electricity which can be directly related to their energy efficiency.
Aluminum LED Profile for Meeting Room
LED aluminum profile channel applications are able to provide you not only with safety and luxuriousness but also with a green lighting solution in your office. The led light strip is not only ideal for office use but also used in public places.
Aluminum LED Profile for Pendant lighting
Pendant lighting may have begun in the bedroom, but nowadays pendants are as likely to be found as kitchen lights, or even in a bathroom. LED Pendant Lighting is a great way to ensure a uniform and dimmable light around any room, but these wide aluminum LED profile channels are perfect for this type of application.
Aluminum LED Profile for Ceiling Recessed
Selecting the right LED aluminum profile for your next recessed lighting installation will be an important decision. When selecting an LED aluminum profile, consider how it will be set up on-site, the appearance, and finally, quality.
Aluminum LED Profile for Bar Lighting  Recessed
LED aluminum profile for bar lighting recessed decor is one of the most popular products in the market. It's no wonder since the profile strips are both modern and functional. This particular profile is especially relevant to the fans of minimalist design that provides good light.
Aluminum LED Profile for Wall Recessed
Are you looking for an Aluminum LED Profile to use in your next project? Maybe you're working on a new home and want to install some recessed lighting. Maybe you're working on a remodel, or maybe you don't even know where to start with lighting options. No matter what your situation, let me take a few minutes and give you the lowdown on what aluminum LED profile you should use, why it's best for your project, and even share with you a few examples that I've been involved in installing.